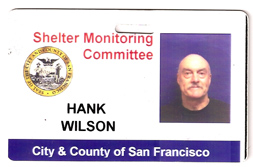 I wrote in my last post about Hank Wilson. Here's a much more lovely long remembrance of Hank Wilson, by his friend Bob Ostertag. Read it.

Here's the last paragraph:
What, exactly, is a "community?" At the university where I teach, there are "experts" in this matter who will give you definitions of community that use so many big words, you will need a PhD of your own just to figure out what they are talking about. Hank Wilson had a definition his kindergarten students could understand: a community was something that took care of its least privileged members. If this simple thing could not be done, then you didn't have much in the way of community. This was Hank's life project, his singular, profound contribution to the gay and lesbian community, and to the city of Saint Francis.

Also, some memories at the San Francisco Bay Guardian's web site (read the comments section);

the Chronicle's article;

for the historians in the crowd, here's the finding aid to the Hank Wilson Papers, which Hank donated when he thought he was about to die of AIDS in 1996, right before highly active antiretroviral therapy saved his life;

and finally, a Magnum Photos photo essay about the Ambassador Hotel.

Of course, you can always help out with the Wikipedia page, in progress.